Newark Airport Parking Service
At E-Z Way Long-Term Parking at (EWR) Newark Airport, we know that traveling can be stressful and hectic at times. That's why do everything we can to help make both the beginning and end of your trip as easy and hassle-free as possible. From the moment you pull into our conveniently located off-site airport parking facility to the moment you leave, you'll be assisted by a friendly a member of our staff to ensure that you have a positive experience. With our Newark airport parking service we're committed to making sure your travel, whether for business or pleasure, is handled in a courteous and timely manner.
Airport Parking Service at E-Z Way Parking Service Made Simple

Fast Check-In
Closest parking lot to airport entrance

Luggage Assistance
FULL assistance with your luggage

Fast Response
24 hour / 365 days per year service

Top Security
SECURE fenced, lighted, video and monitored facility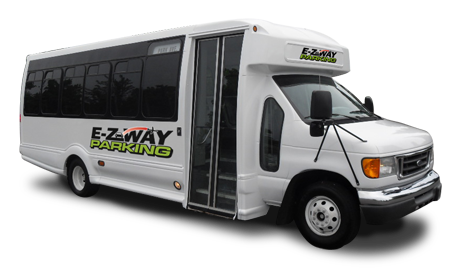 Shuttle transportation to & from the airport
Shuttle service is provided 24 hours a day to and from the airport. Our shuttle drivers will be there waiting to help you with your bags. Just call 908-994-1999.
Make a Reservation
Additional Newark Airport Information
Travelers Aid Services
Travelers Aid, a not-for-profit organization, provides both professional and volunteer staff who offer emergency assistance to customers who are disabled or elderly traveling alone. Services include, but are not limited to, connecting stranded passengers with support resources such as contacting family members, arranging for temporary housing, emergency food or clothing and/or referral to local social services agencies. Visit a Welcome Center in any Newark Liberty terminal to learn where Travelers Aid Representatives are located or call the Travelers Aid main office.
Medical Information
For medical emergencies, dial 211 free from any public phone on the airport. Port Authority Police are on-site at the airport 24 hours a day every day.
Hotel Accommodations
There are many hotels near Newark Liberty (EWR). Stop by the Welcome Center on the Arrivals Level at any terminal and locate the hotel courtesy phone bank. Call the hotel directly for information on vacancies.

Contact Information

Newark Liberty: 973-961-6000 International recorded
Ground Transportation: 800-AIR-RIDE (247-7433)
Lost & Found: 973-961-6243
Parking: 888-397-4636
Port Authority Police: 973-961-6230
Travelers Aid: 973-623-5052

Airport Medical Office
Newark Liberty International Airport
Building 339, 2nd floor 973-679-1805
Monday through Friday, 8:30 a.m. to 5:30 p.m. EST


Amtrak: 800-872-7245
Amtrak (TDD/TTY): 800-523-6590
NJ TRANSIT: 973-275-5555
NJ TRANSIT (TDD/TTY): 800-772-2287
PATH: 800-234-PATH (7284)
U.S. TDD/TTY 711

Make a Reservation



Everyone knows that finding long-term airport parking service is a major hassle. If you show up at the airport without a plan, you can expect to drive desperately from lot to lot looking for an empty space, follow confusing signs and directions, worry about whether you'll make your flight in time, and pay a small fortune to park so far from the terminal that you might be in another state. After all that, you'll spend half your trip wondering if that back corner of the airport lot is truly secure, and whether the airport security personnel bother to monitor it. As if air travel wasn't stressful enough already!
We've been there, and we understand your concerns; that's why we strive to provide an alternative: the E-Z Way! Parking woes are a problem of the past when you enlist our help. It's easy: make a reservation as far in advance as you like (or at the very last minute), arrive at the E-Z Way Parking lot 15 minutes before you need to be at the airport, allow our courteous valets to attend to your luggage and park your car in our extremely secure facility, take one of our five 24-hour shuttles to the Newark Airport, and you'll be on your way worry-free. That's really all there is to it. No hassle, no stress, just park your car and your concerns with us.
Make a Reservation
Placing your reservation is simple and straightforward. Our
Newark airport parking service
is the easiest way is to complete the reservation form on our website, where you can schedule the dates that your vehicle will be staying with us, choose your parking space, use a promo code, and pay for your parking service, all in one place. If you prefer to talk with a person, you can make your reservation over the phone by calling 1-973-263-2009, where one of our representatives will be happy to assist you. Maybe your flight leaves in an hour and you need parking right now—we're here for that too, and we'll do everything within our power to help you catch your flight. At E-Z Way Parking, we guarantee you'll have a space waiting for you, no matter when you arrive.
Change of plans? Sometimes flights are delayed, vacations get postponed, and emergencies happen, leaving you with a parking reservation for the wrong week. But we've got good news: reservations are as easy to alter as they are to book, and they never expire. Just log in to our website using the information you received in your reservation confirmation email, and you'll find all the tools you need to reschedule, shorten, or extend your parking period. Reservations can be cancelled by phone as well, but be aware that the deposit is non-refundable.
Make a Reservation
E-Z Way Parking service is easy to find because we're the closest parking lot to the entrance of Newark Liberty International Airport (EWR). Conveniently situated at the Crowne Plaza Hotel in Elizabeth, just off US Highway Routes 1 & 9, our lot is accessible yet secure. You can follow the directions on our website to get here or enter our address (901 Spring St., Elizabeth, NJ) in your GPS. Once you spot the hotel, look for the E-Z Way Airport Valet Parking sign and follow it to the entrance. A member of our staff will be waiting to assist you.
We recommend arriving at E-Z Way at least 15 minutes before the airport suggests you be there. The shuttle ride is a quick, 5-minute trip on average, but we always try to allow for traffic and delays. To streamline the process, please have your reservation confirmation details printed out and ready, as well as your car key or valet key, and any coupons or discounts that you would like to apply. Remember to take all of your valuables with you (or leave them at home), as E-Z Way Parking, Inc. is not responsible for personal belongings left inside your vehicle. We also advise that you remove any food or trash, particularly food wrappers, from your car or you may be in for a nasty surprise when you return. Those tacos tasted great on the drive up, but leave them in your parked car for a week…you'll never want to smell tacos again.
Make a Reservation
Don't waste a single minute looking for a parking space before you fly out of Newark Airport (EWR); we've got a space waiting for you, and our valets will handle the rest. We've recruited a team of quick, experienced, professional valets who will handle your car with the precision of Mario Andretti and the delicacy of a Sunday driver. Our mission is to get you through the necessities and on your way to your destination as quickly as possible, but your vehicle is our guest and we'll give it the royal treatment. We've heard stories—maybe you have, too—about
travelers returning to a garage or long-term parking lot to find their car has been tampered with, stories about parking attendants caught fiddling under the hood of a car left in their care. That has never happened, and will never happen, on our watch. We bank on trust and we would never break yours. Your vehicle will be in safe hands with E-Z Way Parking Service.
As part of the white-glove service that we offer, our valets will carefully handle your luggage at no additional charge. You'll get enough of a workout lugging those bags through the airport, the least we can do is shoulder the heavy lifting while you're with us. Relax; enjoy those last few precious minutes of not being in an airport while you can. Our valets will swiftly unload your vehicle, pack your bags into one of our five airport shuttle vans, and then unload them again upon your arrival at the airport. With EZ Way's Newark airport parking service you won't have to lift a finger.
Make a Reservation
Due to the nature of long-term parking service, we take extra precautions when it comes to the security of your vehicle and belongings. Layer upon layer of defense is built into our facility to deter vandals and thieves. One of the first things you'll notice is the high protective fence surrounding our premises—it's extremely effective at keeping opportunists out. We've got heavy-duty lights to eliminate the shadows and keep the parking lot well-lit, even in the dead of night. E-Z Way Parking Service is a 24-hour-a-day, 7-days-a-week facility, so we are always here on location and on the alert.
We've said it before and we can't stress it enough, PLEASE don't leave any valuables in your car, especially not where they are visible. Not only does this allow for the possibility that your items may be lost or damaged (small items fall between seats, GPS devices come unstuck and fall off the windshield), it actually encourages criminal behavior. You can count on us to do everything in our power to prevent theft and vandalism, but one of the most effective deterrents is to remove the incentive for theft. E-Z Way Parking Service , Inc. cannot be held responsible for lost or damaged items.
Make a Reservation
E-Z Way Parking Service is so close to EWR Newark Airport
that you could walk to it…not that we'd expect you to! Instead, we have a small fleet of clean, comfortable shuttle vans to ferry you directly to and from the airport without delay or fuss. The vans run 24/7, so no matter what time you arrive, you'll have a ride that's fresh and ready to go. We'll load and unload your luggage for you, as well as offer any other assistance you need. Please let us know in advance if you require any special arrangements and we'll do our best to accommodate them. Traffic around the airport usually results in a 5-10 minute drive, so plan accordingly and you'll have a nice, speedy check-in.
Our shuttle vans are driven by friendly, licensed professionals who know the Newark area and the airport well. They stay up-to-date on traffic and are prepared with alternate routes, just in case the situation calls for them. Feel free to ask our drivers any questions you might have—they're very knowledgeable and they'll be happy to help you in any way they can (please note, however, that they cannot make stops anywhere except the airport and E-Z Way Parking Service). Getting you to the airport in a safe and timely fashion is our top priority—after all, what good is airport parking service if you miss your flight? You'll be there in time for a pre-flight margarita, if we have anything to say about it. There's no fee for our shuttles, but our drivers do appreciate tips for excellent service.
Make a Reservation
The
Newark Airport
features three terminals (A, B, & C) arranged around a central concourse, so be aware of which terminal your flight is leaving from and we will deliver you directly to it. Travelers are encouraged to arrive two hours early for domestic flights and three hours prior to international flights, but arriving prepared can save you a lot of time. Be sure to check the baggage guidelines on their website before you leave, and you'll save yourself a headache (and maybe a cavity search, too). Each major terminal has a variety of shops and dining options, so you can pick up any last minute essentials or enjoy a meal before take-off ("enjoy" might be a strong word, but you have to know what you're getting into with airline food). We'll assist you with your luggage at the curbside unloading area; if you need additional help beyond that point, the airport offers invaluable accessibility services that should be arranged at least 24 hours in advance. A map of the Newark Airport is available on their website and can prove essential to navigating the terminals.
Make a Reservation
When you return from your travels, getting back to E-Z Way is, well, easy! Once you've claimed your baggage, it's simply a matter of calling the E-Z Way Service dispatcher at 908-994-1999 and notifying us that you are ready to be picked up. One of our on-demand shuttles will be sent immediately to collect you and your luggage at the terminal and return you to our facility, where your car will be ready and waiting for you, just the way you left it. Despite the exhausting nature of air travel, we endeavor to make your return a positive experience; we'll sweat the details while you nurse your jet lag. Attentive members of our team will be on hand to unload the van and transport your luggage to your car, and within minutes we'll be waving goodbye as you drive home.
Make a Reservation
Long-term parking service doesn't have to be a pain. You'll be glad you chose the E-Z Way!